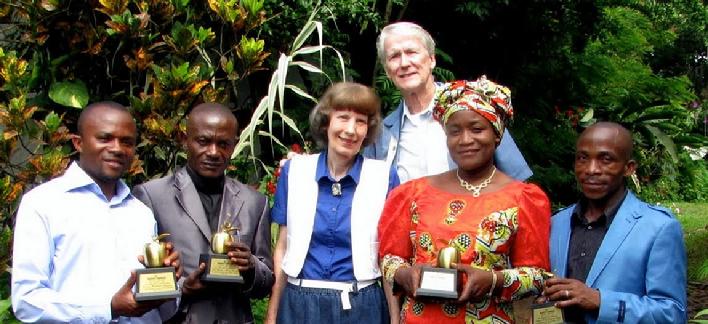 Becoming a "Day Sponsor" provides a unique opportunity to partner with Radio Kahuzi in proclaiming the Gospel of our Lord Jesus Christ."

The "Day Sponsor" program provides you with an opportunity to share a word of encouragement to fellow believers in Africa. You have an opportunity to have your voice heard on Radio Kahuzi. You write the script, and it will be read throughout the broadcast on the day you choose.

Occasions for "Day Sponsors" vary. Some choose to remain anonymous. Most are memorials, honorariums or expressions of thanksgiving. Others choose special holidays, anniversaries, or birthdays.

Businesses may underwrite a day of broadcasting as a corporate "Day Sponsor." A church, Sunday school class or club may also be a corporate "Day Sponsor."

Though our budget increases slightly every year, we have determined that for this year a reasonable cost for sponsoring an entire day of broadcasting is $398. If God has blessed you so that you are able to sponsor one or more days, we would be grateful for your gift.

You can be a "Day Sponsor" through a one-time gift of $398, or increments of $25, $50, or $75. As long as we receive your $398 Faith Promise within a 12-month period, it meets our conditions for becoming a "Day Sponsor."

SAMPLE 30-SECOND ANNOUNCEMENT:

Harold and Barbara Smith of Bradenton, Fl: "We celebrated our 57th Wedding Anniversary on June 21st and we are so thankful for our salvation in Jesus Christ and for the joy of serving Him together."

Our favorite hymn is "How Great Thou Art" and our favorite verse is Eph 3:20 "Now unto him that is able to do exceeding abundantly above all that we ask or think, according to the power that worketh in us."
---
Your personal greeting along with your choice of a favorite hymn and Bible verse will be broadcast four times throughout your special day. Now is your opportunity to speak to thousands in Africa by becoming a missionary for a day and helping us to continue broadcasting the Gospel of Jesus Christ.
---

Pay by Check: Your tax-deductible donation via check should be made payable to Believer's Express Service, Inc. and mailed to:
BESI/Radio Kahuzi
P.O. BOX 110173
Bradenton, Florida 34211
OR, Pay by Credit Card via PayPal by clicking the link below:
If you are interested in receiving our newsletter, or simply communicating with Radio Kahuzi with either a comment or question, please complete the form below. Thank you and God bless you!